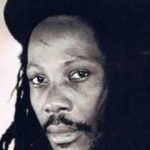 Rudolph "Garth" Dennis Born: December 2, 1949, Kingston, Jamaica Died: December 9, 2021, Ontario, CA.
Dennis grew up in Kingston, Jamaica. He formed Black Uhuru in 1972 with Don Carlos and Duckie Simpson. After the group's early releases Dennis left, going on to join the Wailing Souls in the mid-1970s, staying with them during their successful Channel One era.
When the core members of the Wailing Souls moved back to Jamaica in 1985 after a period in the United States, Dennis stayed behind, but later returned to Jamaica to rejoin the re-formed original lineup of Black Uhuru. With Black Uhuru, Dennis recorded the Grammy-nominated 1991 album Now and three further albums (along with dub versions). When Simpson left the group, Dennis and Carlos continued as Black Uhuru until December 1987, but Simpson also claimed the name, winning a legal case in 1998. etc….