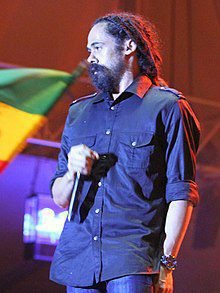 Damian Robert Nesta "Jr. Gong" Marley, July 21,1978 Kingston, Jamaica
Damian Marley is the youngest son of reggae musician Bob Marley. He is the only child of Marley and Cindy Breakspeare, a Jamaican jazz musician and former model. One of Bob's last requests in Germany was to have Damian's name changed after seeing the movie Damien: Omen II, which is about the emergence of the Antichrist. "Damien being a devil…it was inappropriate for him to have a child named Damian," Bob said, and Damian's name was changed later.
Damian was two years old when his father passed away. "Junior Gong" is derived from his father's nickname, "Tuff Gong". He formed the Shephards at the age of 13 with the daughter of Freddie McGregor and the son of Third World's Cat Coore. In 1992, the group opened the Reggae Sunsplash festival. In the early 1990s, the band broke up, and Damian started his solo career.
Marley released his debut studio album Mr. Marley in 1996, which surprised many who were not used to hearing him deejay instead of singing. Marley released his second studio album Halfway Tree in 1997. The name "Halfway Tree" comes from his mother Cindy Breakspeare being from the rich part of town, and his father Bob Marley being from the poor part of town, making him a "tree halfway between the rich and poor." The Halfway Tree is also a well-known landmark that marks the cultural center of Half-Way-Tree, and the clock tower, which was built on the spot where the cotton tree once stood, is prominently featured on Marley's album cover. The album was released on September 11, 2001 and received the 2002 Grammy Award for Best Reggae Album. It was co-produced by Damian Marley and his brother Stephen Marley, who had also produced Damian's debut album Mr. Marley